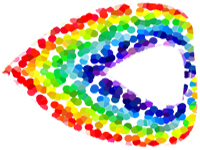 Activism Not Assimilation
---
Autist Art aims to promote awareness, support, and understanding of the wide spectrum of autistic experience and Autistic activism, and to also promote a new kind of "Autism Awareness": not cure-oriented, but a celebration of autistic people, of all ages, all abilities, all along the autism spectrum. Autist Art promotes autistic activism and advocacy through a wide variety of positive autistic designs by a person on the Spectrum.
Autism With an Attitude

"Promoting Positive Awareness of the Autistic Spectrum."

Shop Menu
Items on the Zazzle menu will take you to the Autist Art gallery at Zazzle.com.
---
Autist Art > allprod > Nonverbal (Not Dumb)
---

Nonverbal (Not dumb.)

---

Nonverbal, not dumb. Nonverbal does not equal not thinking. I'm still a thinking, feeling person even if I don't communicate the way you think I should.

Scroll down for tshirts, buttons, and more with this autistic advocacy design. You can also find more autistic pride and autistic activism designs at autistart.com.
Click on an item to get more information on it (or if you want to buy it, of course).
powered by CafePress & cpshop